Japanese Car Auction - Auction Sheet Guide | Kobe Motor
Auction sheet is an exceedingly important and reliable document that provides complete information of a unit (car), covering everything from scratches to major dents and is created by an independent authority providing an unbiased assessment of the car.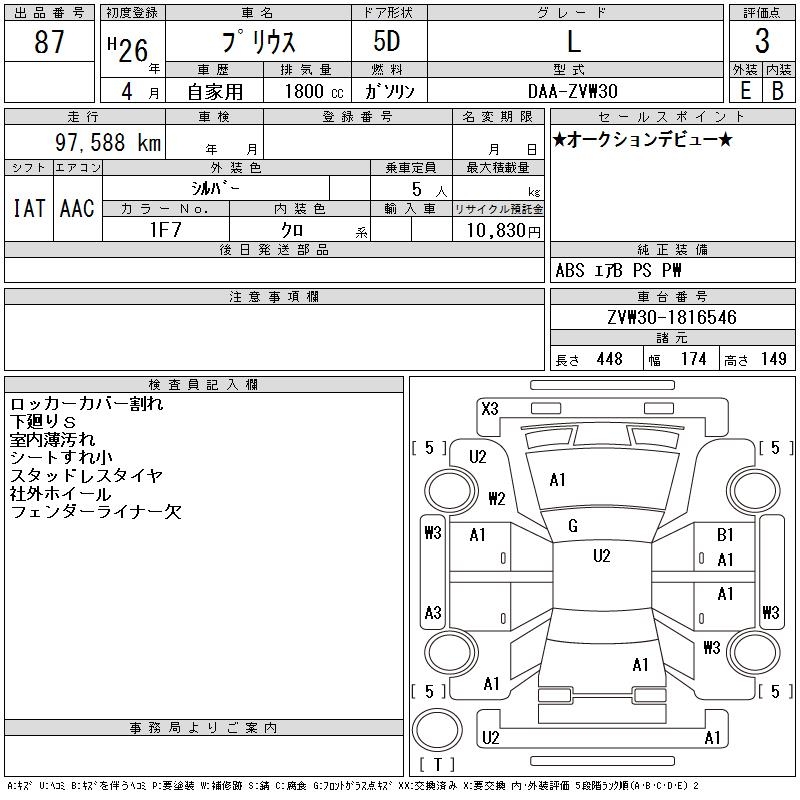 Auction Grade
4.5
Excellent grade with almost no issue
4
Great grade with minor issues only
3.5
Good grade with some issues that may need repair
3
Average grade with issues to fix
1
Engine swap or has been under water
*
Non running car, needs a forklift to be moved. But also mentioned for any motorbike or machinery
R or 0
Accident history repaired. Repaired parts are mostly informed on auction sheet
RA
Minor accident repaired (core support or back panel only)
RB
Heavy repair (till inner panel or floor)
RC
Pillar or frame has been changed/repaired
R2
Accident history and mostly rust or corrosion issue
Interior Condition
A
Excellent interior condition
B
Good condition with some imperfections
C
Good or average condition with imperfections
Detailed Vehicle Condition
1
Minor, almost not noticeable (eg A1, U1)
2
Small but noticeable (eg A2, U2)
3
Average or big (eg A3, U3)
X
Big (Japanese kanji for "big")
Transmission
Manual
F5, F6, MT, 5MT, 6MT
BIDDING RESULTS
When you bid for cars in a Japanese used car auction, the possible outcomes of your bid can be:
You purchase a car matching your budget or close to it.
Car purchased by someone before you in the auction.
The bids do not reach the reserve price set by sellers.
A vehicle does not meet the condition relevant to the country of import/ Customer purchase limit exceeded
A vehicle removed from auction by the seller during the process.